Full Face & Decollete Make-Up Artistry $225
Make-Up Artistry Instruction $250
High Profile or Bridal Make-Up $250
Add Lashes Strips $35 and up depending on the quality
Add Brow Groom $55
Add Facial Waxing  - see facial page for pricing
Add Airbrush to above services, add on $125
*Parties for minimal make-up, mini lips, cheeks, brows and eyes $99 and up
*Parties with DIY station $250/hour with demonstrator and supplies.
ASK ABOUT OUR BRIDAL SERVICES WITH PACKAGES FOR GROUPS - WE CAN PERFORM SAME COLOR POLISHES; SAME STYLE HAIR SERVICES AND SAME STYLE MAKE-OVERS.  For the Picture Perfect Event Of Your Life!
GLAMOROUS LASH APPLICATIONS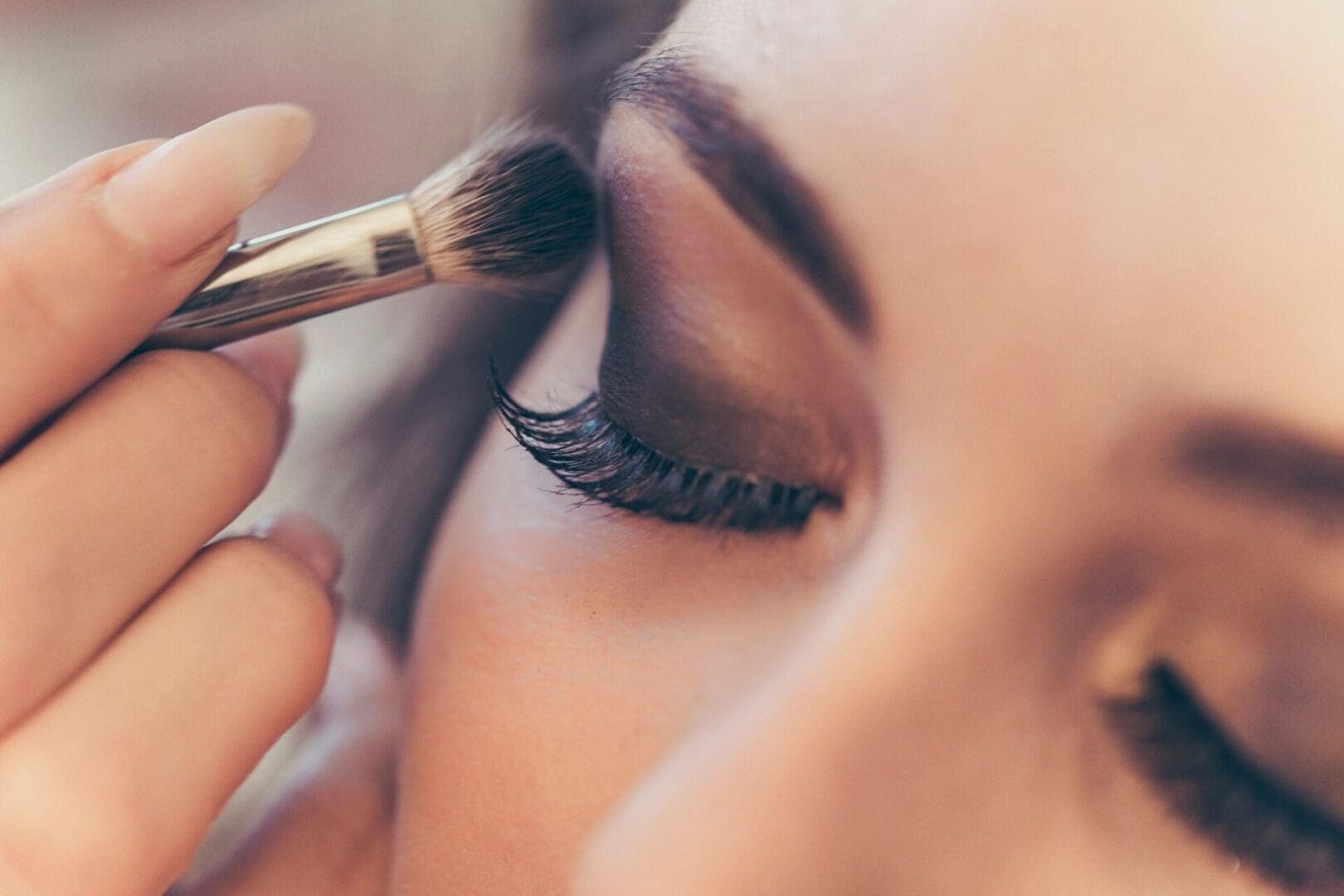 Experience Natural and Fuller Lashes With A Custom Applied Set Of Lashes.
Precision applied eyelash extensions that provide beautiful, long-lasting results.
Your stylist will create the perfect luxury lash look for you. Using proprietary tools developed for and unique to Lashes, Able to achieve the safest, smoothest lash application possible. This means that results last longer with minimal damage to the natural lashes.
"Traditional Individual Eyelashes," are an excellent choice for both everyday wear and special occasions. ... Eyelashes are applied using a two-week eyelash glue that bonds to the client's existing lashes. Depending on application skill level; lashes last from one to two weeks

Level 1 Lashes: Natural Single Lashes with Invisible Lash Line
Enhance the natural beauty of your eyes with subtle length and thickness. Single lashes create a low-key, classic look that's durable enough to last through multiple workout sessions.
Even from close-up, these lashes look and feel like they're yours.
Full Set $275
Retouch $145
Level 2 Lashes: Natural Lashes with Eyeliner
Combine all the grace of our single lashes with the appearance of eyeliner. Our level two lashes are fuller at the base, which creates a beautiful eyeliner look. Wake up refreshed and doe-eyed without a single coat of mascara.
Full Set $300
Retouch $165
Level 3 Lashes: Voluminous Lashes with Enhanced Eyeliner
This classy silhouette is a few notches up from simplicity. Perfectly enhanced eyeliner and fluttery lashes add a touch of drama to your everyday look without fully stepping into high glam territory. A clean application means that these lashes look more subtle and natural as they grow out.
Full Set: $360
Retouch $180
Level 4 Lashes: Dramatic Voluminous Lashes with Enhanced Eyeliner
Our voluminous lashes are fully customized so you can achieve your desired "beyond mascara" effect. Our precise application technique allows our dramatic lashes to grow out clean and tasteful.
Full Set: $420
Retouch $180-210
LASH FAQ:
Once you have decided on your lash look, your expert will prep your eyes, apply the lashes and show you how to care for them between appointments. Application times vary. New sets can take up to 2.5 hours while retouches can take anywhere from 1-2 hours. Each lash is individually applied to the lash line using a safe, semi-permanent eyelash adhesive. Our technique minimizes damage to the natural lashes and lash line, allowing the extensions to grow out straight so they blend in with your natural lashes. That means you can wear them longer!
HOW LONG DO THEY LAST?
Typically, our lashes last anywhere from 4-6 weeks if you are following the care instructions provided by your stylist. We encourage touch-ups every 3-6 weeks to maintain your look. Typically, our lashes last anywhere from 4-6 weeks if you are following the care instructions provided by your stylist. We encourage touch-ups every 3-6 weeks to maintain your look.
WARNING:
if you have highly sensitive or reactive skin or suffer from contact dermal allergies, we always recommend that you consult your physician prior to any extension application.
Fab luxurious extensions while maintaining your natural lashes! There's always a risk of pulling out your natural lashes in the process, which can cause bald spots on your lash line. Our patented Cutting Tweezers work to drastically reduce the procedural tugging and pulling required to properly apply extensions. The tweezers also allow us to separate lashes that are glued together. As a result, the thinning and shortening of natural lashes is dramatically reduced.
CONTACT LENS:
Your lashes will not interfere with your lenses or your vision.
AFTER CARE & MASCARA:
Use water-based mascara like Maybelline Great Lash Mascara, Clinique Naturally Glossy Mascara, and Benefit Bad Gal Mascara. When having a fill, avoid wearing mascara for the entire week prior.
To clean: Gently wash and massage them between your fingers with a water-based cleanser. Make sure to pat them dry. If you need to remove excess makeup from your lid, use a fresh cotton swab. Finish by quickly grooming your extensions with an upward brush of a clean mascara wand (you can purchase one in a beauty supply store).
HOW DO I REMOVE THEM?
You have two choices. Allow them to grow out naturally over the course of 1-2 months or you can opt to have "The Removal", which is what we call the phasing out of eyelashes. During the Removal clients can book a removal entirely, or we can phase you down slowly, so nobody notices the gradual decrease in your lashes. We match the extensions to your natural eyelashes or use natural solvents to gently remove the extensions.